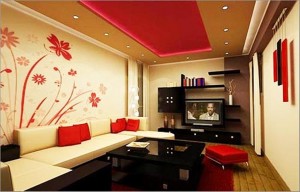 Could your house use a pick me up but the commitment to a full remodel is just a bit out of reach? Maybe knocking down exterior walls in the middle of winter is rough, or pulling up carpet during the rainy season sounds like a sloppy choice. Or perhaps it's just smarter to save for your children's college fund than invest in home improvements right now. No matter what your reason for putting the brakes on a remodel, rest assured, answers to your eyesores are just a stones toss away with these tips from Waypoint Real Estate Group.
A little paint goes a long way. Looking to cheer up, mute down or add some flair to a room? With a can of paint and an afternoon cleared, you can spice up any room with an accent wall. Consider sponge painting or color washing to play with different textures. You'd be surprised at how a can of paint can give the appearance of a remodel.
Fix up the fixtures. Bathroom and lighting fixtures tend to be overlooked when you are redecorating. The truth is, these fixtures are easy to install, affordable to replace, and add an immediate new look to any room. Lowes and The Home Depot have plenty of options online and in store.
Replace an "area". A remodel often involves new flooring.  If replacing the carpets isn't going to happen anytime soon, opt instead for an area rug that compliments the room. While area rugs can get a bit pricey they are much more affordable then replacing wall to wall carpet. Check overstock.com for good deals.
Divide and conquer. Having houseguests move in for a few months? Need a designated office space? Sometimes we need one more room but don't have the time or funds for a remodel to make that happen. Check out these great ideas for sensible dividers that you can use to make one room into two on pinterest.com. Using a removable divider system also helps keep the value of your house up. Open floor plans are in. Creating a permanent solution to close down your rooms could be a decision you regret down the line.
Rethink, reorganize and rearrange.  A lot of the time we think that we need to completely remodel a space when we simply need to rethink the way we are using it. Channel your inner fung shui and see what other options you have for arranging your furniture. Cut the clutter and invest in some organizational solutions at The Container Store. Be careful, it's dangerously awesome in there.
Adding new energy and spunk to your home doesn't have to cost you an arm, a leg and a month of your time. If a remodel isn't realistic in your near future, it's ok! There are plenty of great solutions for sparkling up your home without heavy machinery.
Our team would love to hear about how YOU are being creative. If you have restyling tips let us know so we can share them with our followers!