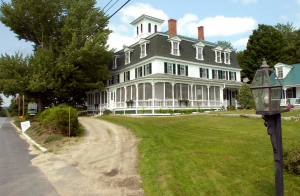 Waypoint Real Estate Group loves creative real estate marketing. We support out of the box thinking and are open for fun, new marketing techniques. Not sure we ever would have come up with this one though…
Center Lovell Inn & Restaurant in Maine is for sale, but don't start collecting your down payment and arranging your financing just yet. It's actually better to prepare some fresh ink and pick an extra fancy postage stamp. The price for the beautiful and thriving Bed and Breakfast you ask? A 200 word essay and $125. Yup, you read that right. Welcome to extremely creative real estate marketing.
Janice Saga, the owner of the quaint resort style Bed and Breakfast is selling her entire business to whoever can best woo her with their words. Why, you ask? Because that's exactly how she acquired the business 22 years ago when the owners before her used this creative real estate marketing technique. Janice hopes to receive 7,500 entries totaling $900,000, the approximate value of the property. Sounds like some stiff competition!
What do you win? Center Lovell Inn and Restaurant, a year round Bed and Breakfast, on 12 acres, nestled in the shadow of the White Mountains and surrounded by lakes, hiking and breathtaking views.
How do you enter? Go to the website and carefully read over the Contest Rules & Entry.  Submit your essay postmarked by May 7, 2015. Janice will personally read all of the responses and narrow them down to the top 20. From there, two unbiased judges will make the final decision.  This creative real estate marketing strategy can only be topped by the essay that will ultimately win the contest.
Is 200 words a lot? This blog is 356 words. So…no.
What did Janice write? Well that will have to remain a secret won't it? We don't want to be giving anyone the perfect essay!
What if I win? Congrats and don't forget that we shared this with you!  Please reserve a suite for the Waypoint Real Estate Team for your opening weekend celebration!
Waypoint Real Estate Group serves Central Florida specializing in Celebration, FL real estate.