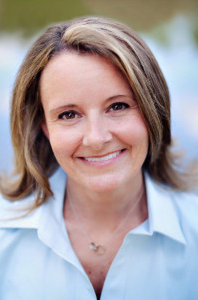 One of the best parts of working with Waypoint Real Estate Group is our team. We are a team of fun-loving, caring and dedicated individuals, and we are here to put all of those great qualities to work helping you with all of your real estate needs. Have you ever wondered what our day-to-day looks like? Well this week we sat down with Tiffany Baro to learn a little bit more about what her days look like at Waypoint Real Estate Group.
What time does the day start for you?
The day starts at 7am, in the office by 8:30. I try to be done by 6pm to be with my family.
What is the realtor's breakfast of champions? 
Oatmeal or a smoothie.  Anything that keeps me going until lunch.  I find that the mornings set the pace of the day.
What is your favorite part about being a realtor? 
Guiding people through one of the most important purchases of their life.  It's not just a house, it's a home.  People live and raise a family there.  It is usually one of the biggest financial purchases they make as well.  There is a big responsibility that comes with that.
What would your second grade teacher say about you today if she knew you grew up to work in real estate? 
She wouldn't be surprised.  I was very social in school, maybe talked a little too much.  
What is the biggest challenge in your daily work?  
Fitting it all in.  A friend of mine said his dad called real estate agents a "glorified door opener".  Clearly, he has never been a Realtor or taken the time to understand everything it entails.  There are so many steps and working parts to a real estate transaction.  So many people involved making sure the process goes smoothly.  Details are key and time management is critical.
What is the most rewarding part of your daily work? 
Turning over the keys to a new home and making lasting friendships!
What advice would you give to someone hoping to join the real estate ranks? 
You have to be in it for the long haul.  Your first 2 – 3 years are very difficult, building your pipeline and your database.  There are no part-time Realtors.  If you want to be successful in this business it requires a full time commitment.
What is your favorite open house snack? 
Chocolate chip cookies of course!  Who doesn't like a nice warm cookie?
*If you are looking for Tiffany's excellent cookie recipe you can find it here–Nestlé Tollhouse Original Chocolate Chip Cookies. Tiffany believes in the classics!
What's your guilty pleasure in your free time? 
Watching movies.  I love a good movie – comedy, romance, action.  Anything with a good story.
If you had to pick an actor/actress to portray yourself in a brand new blockbuster real estate spectacular, who would you pick?   
Reese Witherspoon.  She's down to earth, funny, smart (even though she sometimes plays the silly blond). She's grounded and she's got it together. I like that.
Want to know more about Tiffany? Check out her profile on Our Story and give her a call today. She would be thrilled to hear from you – 407.566.8265. Stay tuned for more updates about the Waypoint Real Estate Group team!
Waypoint Real Estate Group serves Central Florida specializing in Celebration, FL.