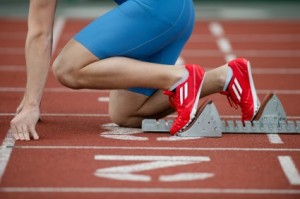 Life is an obstacle course. There are ups and downs, highs and lows, moments that make you sweat and moments that shoot you into celebration. While 2015 might not be an Olympic year for the sports world, the 2015 real estate market is an opportunity for fun and exciting competition. Waypoint Real Estate Group wants to help you limber up for the 2015 real estate games.
Be Strong – Buying and selling can BOTH be emotional processes. If you are mentally prepared for the experience it will be much easier to enjoy it. Spend some time researching the 2015 real estate market before you begin your journey. Talk to your friends about their experiences. The more you know going in, the easier you will handle the hiccups that will inevitably come up along your journey. Having a can do attitude can go far in the world of real estate.
Be Quick – The 2015 real estate market shows non-distressed homes selling much faster in some areas than they were a few years ago. That said you don't want to find yourself in a race with another buyer trying to get to the closing table! Prepare all of your paperwork and financing in advance so that when the time comes to submit an offer you already have all the tools you need to succeed. You wouldn't start a race without tightening your laces first, so do not start your house hunt without proper preparation.
Be Global – We don't necessarily mean that it's time to invest in a vacation home in Singapore (but if you're into that we support it!). We mean viewing 2015 real estate on a more global scale. Look at housing trends worldwide and consider carefully how they might affect your local market. Stay in touch with international finance news and use it as a predictor for mortgage rates, financing and home costs. Studying other communities in similar situations can help you predict your own future.
Be Flexible – The very nature of real estate is that it is hard to predict. You might find your dream home, you might not. You might sell fast, you might not. The more open-minded and flexible you are the happier you will be with your final outcome.
Waypoint Real Estate Group is ready to coach you to the finish line of your 2015 real estate dreams. Call us today to start your training and get on the path to success.
Waypoint Real Estate Group serves Central Florida, specializing in Celebration, FL.