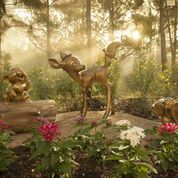 You've probably heard about Golden Oak at Walt Disney World® Resort from our previous correspondence. It's a pretty magical place, and as a result Waypoint Real Estate Group loves to tell our friends about it on a regular basis. Who wouldn't want to hear about a place where vacation dreams come true, forever? You may already know that Golden Oak is a place that dreams are made of, but did you know these fun facts?
The name, Golden Oak, is inspired by Walt Disney's Golden Oak Ranch in Newhall, California where some would say gold nuggets had been found in 1842, and was a filming location for segments of the Mickey Mouse Club in the 1950's.
 In addition to the ranch's official use for The Walt Disney Company, the ranch also served as a place of respite and relaxation for Walt and his family. Golden Oak at Walt Disney World® Resort offers families that same sense of magic and enchantment that Walt believed to be so important. Beyond the literal connection to Disney's Golden Oak Ranch, the iconic oak tree symbolizes the family, stability, and heritage that this community encourages. The tree also pays a subtle homage to Walt's "Dreaming Tree," the tree in his childhood hometown that provided shade for his many hours of daydreaming.
Historic Disney lore exists throughout Golden Oak, but most notably in the naming of the neighborhoods. Golden Oak's Carolwood is named after Walt Disney's backyard railroad. Kimball Trace originates from Ward Kimball, one of Walt Disney's key animators. The Silverbrook name comes from Silver Lake, the location of Walt and Roy Disney's original studio in Los Angeles, California. Marceline was inspired by Marceline, Missouri, the location of Walt Disney's boyhood hometown.
Golden Oak Resident Services brings Disney's guest service culture directly to homeowners. The dedicated Resident Services team uses a concierge-style approach to help assist with select everyday personal, residential and resort requests such as; Disney Parks and special event tickets, in-home dinners and parties, dining reservations, spa reservations, golf tee-times, home maintenance services and move in services.
Walt Disney World Resort and Waypoint Real Estate Group are both in the dream making business.  Together we want to make your dreams a reality. Give us a call today and we'd be happy to introduce you to your new fairy tale future.
Waypoint Real Estate Group serves Central Florida specializing in Celebration, FL.