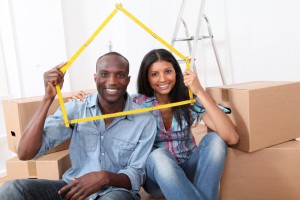 Are you a first time homebuyer? Are you worried about diving deep into an unfamiliar process? Don't worry, Waypoint Real Estate Group knows exactly how you feel and we are here to help. Continuing with our series, today's blog presents five more first time homebuyer tips. Study the advice below and check out our previous blogs, First Time Homebuyer Faux Pas I and First Time Homebuyer Faux Pas II to make sure you are well prepared for your first home purchase.
Advice 1
Don't expect to fall in love. As a first time homebuyer, you are going to look at a lot of homes, and chances are, none of them are going to have absolutely everything on your list. If you want to be picky, that's fine, just expect that it could take a long while before you realistically find your dream home. If you want to become a homeowner sooner rather than later, than learn how to see the opportunity in a home and be flexible. Maybe you'll have a bathroom with tile straight out of 1970, but that's something you can fix down the line. Additionally, keeping an emotional distance from your new home will help if you are outbid in a heartbeat. If you aren't too attached, it will be easier to move on to the next opportunity.
Advice 2
Be prepared for an aggressive market. With favorable interest rates and leveling home costs across the country the housing market is on fire right now. But great rates can also mean great competition. As a first time homebuyer, the best way to handle a competitive market is to be prepared. Before you go out looking at homes have a good down payment secured, check and repair your credit report, and get a preapproved loan. In a low cost market many investors make all-cash offers. The only way to compete with such investors is to be a well-qualified buyer yourself. While you can always be outbid on a hot property, make sure that the seller has no reason to reject your offer if you are the highest bidder. In addition to preparing financially, also be prepared mentally. Finding the perfect home takes time, but once you see the right opportunity you should be ready to jump on it without hesitation. The more you do your homework before you start looking the easier the process will be once the perfect opportunity arrives.
Advice 3
Don't put other big debts before your home. When you have a lot of debt, it can be tricky to take out a loan. While some debts, such as student loan debts, have become the status quo for first time homebuyers, there are other sacrifices you could make to lower your debt when you apply for your first home loan. Try to think smaller and more affordably earlier in life so that when the time comes for your first home you have more options. Purchasing an older car for cash, keeping your credit cards paid off every month and refraining from unnecessary personal loans will help you when you get to the bank for your first mortgage.
Advice 4
Don't put too much trust in online information. As a first time homebuyer, you probably spend a lot of time researching on the internet. The internet is a beautiful and powerful thing, but sometimes its powers can also be used for deception. Don't rely on any information you find online whole-heartedly. From home prices to mortgage rates, everything could change once you're finally signing your name on the dotted line. Document your online research carefully to argue costs down the line if you have to, but don't be surprised if it turns out you missed some fine print and it is going to cost you.
Advice 5
Pay for the professional inspection. Get it into your mind that home inspections aren't really optional. You might think after a brisk walk around the home that everything looks great, but you have no idea what might be cracking behind the walls or growing under the floorboards. A professional inspector can find deep-rooted damages that could cut a hole in your pocket shortly after purchase. Better safe than sorry, this is worth the money. An educated first time homebuyer is a happy one!
If today is the day that you would like to start the journey to your first home then we are here to get you through the process. Give Waypoint Real Estate Group a call and we can help you navigate the path to the waypoint of your first home. We'd be happy to set your compass to success and we can't wait to chart this new territory with you.
Waypoint Real Estate Group serves Central Florida, specializing in Celebration Florida Real Estate.