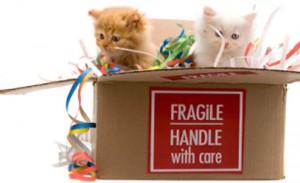 You've found it, your dream home, complete with a fenced in yard for Fido! In just a few short months everything will be settled and life will be wonderful. But in between now and then you have to pack all your belongings and move across the country… with two hyper dogs and a screaming cat. Uh Oh. Moving just became a lot less glamorous.
Moving with pets can be tricky, but if you take the right precautions it can be smooth sailing. Here are some tips from the pet lovers at Waypoint Real Estate Group about how to make the move easier for both you and your furry friend.
1. Visit your vet before you move. Get your pets a check up and make sure they are healthy for the trip. If you have concerns about carsickness or a long flight, see what suggestions your vet may have. Also ask your vet if they might be able to make recommendations for a new vet at your final destination.
2. Research ways to make your pet comfortable. Depending on if you are driving or flying you will be looking at different options for the trip. Some pets LOVE the car. Some pets foam at the mouth and defecate at the thought of the car. See what options are available to help your pet experience a stress free move. Test those different methods before the trip. Many natural calming options are available before turning to more serious medicated treatments.
3. Plan the trip. Are you driving? Find pet friendly hotels. Are you flying? Cargo or carry on? Find out where to pick up and drop off your pet. Are you taking a train? Are pets even allowed on trains? Plan ahead so that there will be no surprises. Call and email if you aren't clear on pet policies. Remember to plan breaks for your pet along the way.
4. Let your pet settle in. When you experience a lot of change, you need to adjust, and your pets are no different. Pay close attention to sleeping and eating patterns. If the first few days are a little off, don't worry too much just yet. If a few weeks pass and things still aren't back to normal consider consulting a professional to make sure your pet is healthy.
For more information regarding safety and comfort when traveling with pets check out the Humane Society of the United States for details about best practices.
Are you moving abroad? Different countries have different rules regarding incoming house pets. Sometimes you just need to fill out a form, sometimes you need shots, and sometimes your pets could have to stay in quarantine once they arrive.
Do your research. PetTravel.com has good advice for traveling with your pets in general and also provides guidelines for most countries around the world.
Give yourself plenty of time to prepare.
Get your vet paperwork. You're moving to another country. There will be plenty of paperwork for you and your pets.
Get your pet chipped if you need to.
Make sure your carrier meets the airlines cargo regulations.
Research ways to make your pet comfortable on the trip.
Waypoint Real Estate Group understands that furry friends are part of your family. We are looking forward to seeing both you and your animal counterparts happy and settled into your new home.