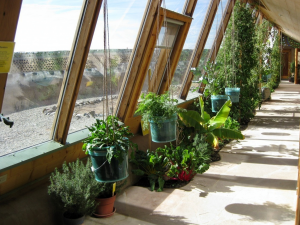 At Waypoint Real Estate Group we are all trying to be more eco-friendly in our every day lives. We are recycling, reusing, and doing our best to make sure our homes are as energy efficient as possible. While many people associate self-sustainable homes with a primitive "hippie" living, quite the contrary, there are some unbelievable eco-friendly homes in our world. Check out a few of the most amazing self-sustainable homes from Earthship, a company specialized in self-sustainable buildings.
What makes an "Earthship" self-sustainable?
1. Home grown food. All of these buildings are equipped with two greenhouses that are specially designed to promote year round food growth. An optional chicken coop or pond could provide a potential meat source.
2. Advanced water recycling. A rainwater harvesting system provides water to showers and clean water sources. The "gray" water that drains from those sources is pumped in to water plants, and then finally sent to the toilet draining system.
3. Eco-friendly energy. Wind turbines and solar panels provide electricity for daily life.
If you're interested in experiencing supreme eco-friendly, self-sustainable living check out some of Earthship's Rental Properties in Taos, NM for the ultimate green getaway.
While Way Point Real Estate Group might not be building "Earthships" just yet, we do know that an eco-friendly living is important to you. Set a time to meet with us soon and we'd be to talk to you about what our listings have to offer in terms of eco value.