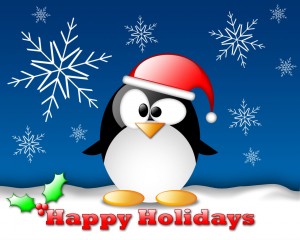 We are in the midst of the holiday season. Family, friends, snowflakes and the magic of the season are all around us, and so are increasingly tight budgets. Yikes! What's a festive celebrator to do? While the holidays do generally mean there will be some extra spending ahead, with careful planning and smart thinking you can rock the season like a pro while saving some cash for a rainy day in the future. Gift Wise
Start early. Early holiday shoppers have time to wait for a good deal.
Shop online. Online shopping offers a wider variety of vendors and gives you the chance to compare and contrast before you make your final choice.
Look for discount codes. Before you check out with ANY online vendor google search for discount codes. You will be surprised how many businesses regularly have 10-15% off or free shipping if you know the secret code.
Use coupons and discount experience sites. Shopping on sites such as Groupon or Living Social can save you big time. These sites offer especially good deals during the holiday season.
Stick to a budget and plan. Just because you have found what appears to be the cheapest hula hoop in all the land doesn't mean you need it if it wasn't part of the plan. Make a list of holiday gifts before you shop shop, but be open to changes if you can't find exactly the right thing.
Travel Wise
Plan in advance. The earlier you can book your holiday flight the better. If you have to travel internationally most trends indicate that booking six weeks in advance can result in lower fairs.
Use discounted booking services. Check Kayak, Orbitz and Sky Scanner for discounts on your flight. Once you've found a good price check with the airline's website and see if you might get an even better deal there. Remember that some discount airlines, such as Southwest, don't advertise on Kayak, so checking their websites independently is worth the time.
Be flexible with your dates. If you can be flexible with your holiday travel you can realize more opportunities for savings.
Travel overnight. If it's possible, traveling at night usually results in lower fairs. It also means one less hotel night.
Measure and weigh your bags before you get to the airport. Those holiday gifts may weight more than you think. Paying extra fees is no fun. Keep heavier items in your carry on to avoid overweight luggage costs.
Celebrate Wise
Holiday parties don't have to be at night. Partying during the day can help you save in many ways.
People will have plans later so the party won't run too long.
Alcohol will be limited because of those plans later in the day.
Pancakes are more economical than steak and equally tasty. Who wouldn't love a holiday brunch? Check out some great recipes on foodnetwork.com to unleash the wonder of holiday brunch.
Cook holiday party meals in large batches. The larger the batch the more you can take advantages of ingredients on sale etc. It also saves you in energy because you will only need to cook once, not multiple times.
Cook a limited menu. While it's lovely to provide all the options in the world, a few hearty and filling dishes will save on ingredient costs.
Use recipes with overlapping ingredients. If you can plan one package of spinach to cover two dishes you will quickly begin to save grocery money. Carefully plan your holiday meals with this thought in mind.
Waypoint Real Estate Group wants to make sure that no matter what holiday you celebrate, when you celebrate it, or whom you celebrate with that you get to enjoy the wonder of this holiday season. If a new home is on your holiday list give us a call today.